GNS 650 (standard)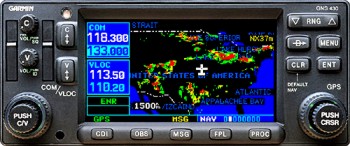 The GNS 650 is the most versatile panel-mounted product GARMIN has produced to date. It combines GPS navigation, VHF communication, and moving map graphics on a big color display. This "all in one box" 12-channel unit offers IFR GPS, ILS, VOR, LOC and glideslope capability in a single, space-saving package.

Many boxes offer some of the same features as the GNS 650, but it's the integration of so many functions that sets this latest aviation product apart. The GNS 650, which is designed as the first in a line of new aviation products, has plenty of growth potential as it is designed for WAAS compatibility. The GNS 650: combining all the navigation capabilities necessary today with all known and defined technologies of the future.)
GI 106A (Standard)

The GI 106A is a panel-mounted Course Deviation Indicators (CDI) with rectilinear meter movements and contain integral GPS, NAV, and VLOC mode annunciators. The GI 106A has a VOR/LOC/GPS needle, TO/FROM indicator, and NAV warning flag, plus a GS needle and flag. The unit contains an integral resolver for OBS feedback. The GI 106A unit also features anti-reflective lenses.





GMA 340 (Standard)

The GMA 340 audio panel meets the needs of aircraft owners and operators who require reliability and versatility in the essential audio switching function.

The GMA 340 features innovative LED-illuminated push button controls that allow audio selection of both NAV and Comm audio. Large buttons activate the Comm microphone and audios for up to three Comm transceivers to simplify cockpit workload. Another feature of the GMA 340 is the Split Comm, which allows the pilot to transmit/receive on Comm 1 and the co-pilot to transmit/receive on Comm 2. MASQ™ processing reduces ambient noise from the avionics inputs. Comm transmit indication is also provided. Speaker selection is available to monitor the aircraft radios or to make PA announcements. There are two unswitched inputs for telephone ringers, altitude alert warnings, or other warning tones. In addition, the GMA 340 includes a six-place VOX intercom with three selectable modes of isolation, dual stereo music inputs, and independent pilot, co-pilot, and passenger volume control. Each microphone input has a dedicated VOX circuit to ensure that only the active microphone is heard when squelch is broken. Special cabin noise de-emphasis circuitry enhances cockpit communications. Also standard is the three-light Marker Beacon Receiver/Indicator with high/low sensitivity selection and SmartMute™ marker audio muting.

Surface mount technology provides shallow depth and light weight, which simplifies installation in the tightest aircraft spaces and saves precious panel space. Operation is available in 14 or 28 volts without voltage converters or dropping resistors. Installation is simplified with the built-in intercom and marker beacon, and the GMA 340 also features photo cell dimming of annunciators, pilot fail-safe mode connection to Comm 1, and FAA TSO approval.

Read what Private Pilot magazine had to say about the GMA 340:

"The GARMIN Model 340 audio panel, reviewed above, is the finest example of communications integration and control for GA. The ICS system offers everything: individual level controls, positive com override of crew/music audio, stereo or monaural operations, soft-on/off, music/voice, crew-isolation, positive VOX control—you name it! The marker beacon and multifunction communications controls complete an excellent design. This unit will be as popular as GARMIN's GPS units." -Private Pilot, March 1999
GTX 330 (Standard)

The GTX™ 330/330D are Mode S, IFR-certified transponders with datalink capability, including local traffic updates. Now, from the comfort of your aircraft, you can receive FAA Traffic Information Services (TIS), including location, direction, altitude, and climb/descent information of nearby aircraft on your GNS 530 or GNS 650. The result is improved communication between aircraft and air traffic control (ATC), providing U.S. pilots with greater traffic awareness in busy terminal areas.
Built on the same receiver and transmitter technology as our best-selling GTX 327, these units' solid-state design increases efficiency by using less power, creating less heat emissions, and eliminating warm-up time. Both units feature an easy-reading DSTN Liquid Crystal Display which reverses the numbers out of black for optimal viewing, an innovative keypad that makes entering a squawk code a snap, and a dedicated VFR button for quick-and-easy VFR squawking. The GTX 330 and 330D also offer several timing and display functions: flight time, count-up and count down timers, and current pressure altitude. Other features include remote ident and auto standby, plus altitude monitor with voice alerting.
Bendix/King KX155 NAV/COM with the KI 209 VOR GS (Standard)


Solid state, 760 frequency COMM transceiver, 200-channel NAV receiver, 40-channel glideslope receiver, 10-watts, 14v or 28v. Simultaneous, digital, gas-discharge display of active and standby NAV and COMM frequencies. Push button frequency flip-flop. Built-in audio amplifier. Meets DO-156 frequency selectivity requirements, TSO'd. (-42/43).
Sandel SN3500 EHSI indicator (optional)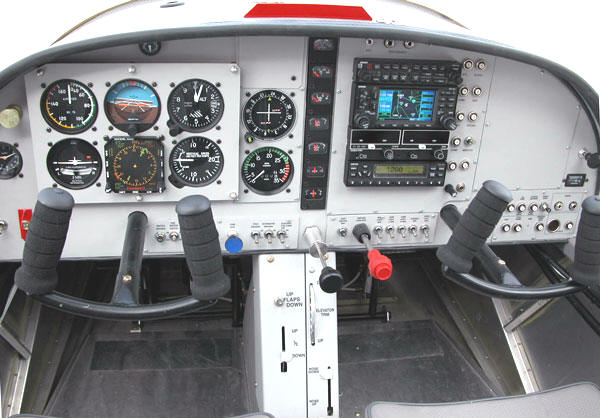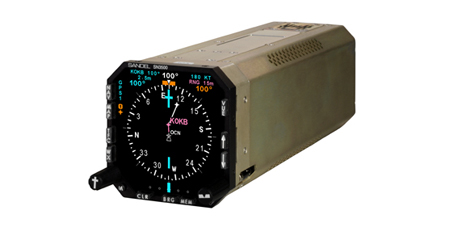 This new 3-ATI unit is a third-generation, TSO'd product suitable for both turbine and piston aircraft. It will also incorporate the compact size, pilot-friendly features, bright display and innovative packaging that led to the SN3308's excellent market acceptance.

Product Benefits
Full-color moving map Nav
Sunlight-readable display with full 360-degree viewing angle
TSO'd and STC approved for use as a primary heading and Nav display
Internal Jeppesen NavData™ database supplements IFR flight plans
Drop-in 3-ATI size with 4-in. equivalent screen
Upgradeable EHSI with traffic and WSI datalink weather options
Rugged, vibration-resistant system certified for helicopter operations
High reliability with analog and digital interface flexibility
Inputs for GPS waypoints, DG, VOR, ADF, DME, marker beacons and Stormscope®
Real-Time Map Technology™ for instantaneous tracking