What people are saying about the Alarus

I think we've all been waiting for the well known advancements in efficiency and performance to make their way into certified aircraft. Finally, a new plane rugged enough for the training mission incorporates up to date design features. Students deserve more than a new panel. The Alarus delivers with noticeable but tame stalls, realistic rudder and yoke control forces, excellent field of view and economic operation. I am also excited to learn that the POH is freely available from the internet. I am sure thousands of students (who are not owners) will want to view the it.

- Ben Lester

I sincerely wish to express my gratitude to you, as well as, for your kind and expert assistance in selecting our new Alarus as TIME BUILDERS, INC. new advanced instrument trainer. Taking delivery of our Alarus with its advanced GPS avionics and certified instrumentation for IFR operation has been a pleasant and most memorable experience. After conducting several months of extensive evaluation we have confirmed that its operation and performance far exceeds our expectations. We find the Alarus to be a serious contender to fill the step between intermediate and advanced complex high performance aircraft.

Acquisition and operation costs are minimal. The rules have changed: flying clubs, professional flight schools and academies can no longer afford to keep flying thirty-year old aircraft and expect to break even.

The Alarus cannot be underestimated; anyone who says otherwise simply does not know what they are talking about. I suggest that serious "Time Builders" get their orders in today before they wait for more than a year for delivery.

Very truly yours, John P. Barelli, Secretary/Treasure - Time Builders Inc.

The Alarus is a joy to fly! The controls are "just right", not overly sensitive, but not too forgiving at the same time. This makes it a marvelous aircraft for training. I am a fairly large man and the cockpit is very roomy, (especially when your instructor is a big guy, too). This is highly unusual for a training aircraft. I am strongly considering purchasing a Alarus for myself when I get my private pilot ticket. Great job on designing this airplane!

Charlie Cardoza

I was asked if I could make some comments on your Alarus. Would LOVE to.
This aircraft is a very forgiving plane. I am a student pilot with 5 hours
in a C152 and close to three hours in your Alarus. The Alarus offers greater
handling in the air and on the ground.
And for a smaller plane, head room is no problem for me at 6', and my
instructor is also 6' tall. We find no problems working together in the
cockpit. Thank you for making such a great little trainer.

Brian Derby, Middleburg/FL/USA

The Alarus aircraft is a safe, fun and enjoyable airplane to fly and teach in. The first 3 weeks after receiving our Alarus we flew 75 hours and I was pleased and surprised with the acceleration and climb performance. I expected performance similar to a C-152 but find it to be much, much better. Additionally I really like the excellent cockpit visibility, the roomy and comfortable cabin along with the advanced avionics package make the Alarus a perfect training platform for both primary and advanced instrument students. I recommend the Alarus for flight schools and individual owners alike"

Glenn Lambert, CFII, ATP, Asheboro, NC

I have flown the Alarus many times during my P.P. training at Corona Flight Academy and its become my favorite plane of all to fly!! Cessna 150/152 and even 172s can't compare, Piper Traumahawks crash and burn! The Beech Skipper is the only close competitor and even they are second to The Alarus!! Its a pilot friendly plane and ultra forgiving to the novice student pilots! I love it! I use it! I recommend it! By the way Greg kimbrough at Corona flight academy takes impeccable care of his Alarus and promotes it to his students over all the other aircraft in his squadron. Need any west coast distribution or sales reps or partners, I'm interested!! Thanks again! Greg Kimbrough purchased a Alarus about three years ago and uses the aircraft for flight training.

Matt, could you please send me a new spinner for my Alarus. Send it COD, regular ground. As you know, we had a student go off the side of the runway here resulting a nose gear collapse. I was very surprised at the limited damage done to the plane.... The nose gear bent right at the bottom of the firewall. We replaced the gear leg and bungee. The prop was bent. We had it overhauled and bent back into shape. The engine was not ge

nerating power at the time, and we had the crank dial checked. The spinner was damaged during the tow back to the shop. The total cost for the repairs, not including the spinner, was less than $1,200.00. Had it been in a 150 or 172, the engine mount and nose gear system would have been toast, and the firewall would have had to been repaired... We are putting about 500 hours a year on the thing. Great Aircraft! Greg Kimbrough, Corona Flight Academy.

"Easiest landing aircraft...Best small aircraft I have flown... the advanced avionics makes this little aircraft amazing and lots of fun to fly... Excellent cockpit management" Neil Kramber, Privet/Instrument/Commercial. GA USA.

Hello John - great to meet you today and thanks again for lunch in Eastman GA; we
made it to Coleman in 2.5 hours - Nice aircraft! As a "fun flyer" approaching 500 hours in about 20 years as a pilot (I skydive from airplanes more than I fly them!), the Alarus is easy to fly and has several small details that make it very user-friendly - the panel is
very well laid-out and cabin width is impressive - Jack and I didn't even
bump elbows during the flight!
Frank B. Arenas

"Bill, my husband, is my biggest fan and hasn't spared any effort letting most of the world know what I've done. I think he's more excited for me than myself. We are enjoying our flight training and LOVE flying the Alarus" Lucy Pleso - owners of aircraft serial number 20-0050

"A great and simple training aircraft. My first student soloed in less than 8 hours and got his private ticket in 41 hours total airtime. The 25 Knot cross wing component is very nice. Great avionics. The Sandel HSI is amazing" Gill Trail, IICFI GA USA.

I am currently learning to fly in the Alarus and would really enjoy a copy of the flight simulator to help me practice. I love flying the Alarus, it makes me feel safe and handles great. My flight school charges a little more to fly it but it is well worth it. I just cant say enough about it. Jerome Romee

I have enjoyed every minute of it! It is set up nice for training, and is
neat and simple. Plenty of room and easy to handle...What more could one ask?...Bryan Prevost, GA


Praise, I'm a student pilot at corona air academy (AJO) IN CALIFORNIA, WHERE I TRAIN IN YOUR Alarus.I LOVE IT! IT'S CHEAP ($66 HR. WET) to fly and beats the hell out of c-150 coffins or traumahawks MATTHEW STRAHAN

I just wanted to let you know how happy I am with our Alarus. As you know, we took delivery of the airplane in January 2000. It has just passed the 500 hour total time mark, having flown 128 hours in August.

The reliability of the airplane is very impressive, especially when one considers the airplane is used exclusively for primary flight training. the 128 hours in August were flown without a single maintenance problem. In fact, the only unscheduled maintenance on the airplane since taking delivery was to replace the electric fuel pump. This is a breath of fresh air compared to the rest of our fleet of Kansas built airplanes. Please keep up the good work! I am looking forward to expanding our fleet of Alarus airplanes. Sincerely, Gene Benson, KeyFLight Academy, Inc.

Our new Alarus joined the training fleet at Tradewind Aviation in New Bern, NC in early July and immediately established itself as the favorite primary trainer of both instructors and new students. Our bright and attractive Alarus is a magnet for potential students and required no excuses as with many aging trainers. N62MK is a predictable and very forgiving trainer while at the same time demanding sufficient attention for effective training. This sturdy, comfortable trainer quickly develops student skills and confidence while evoking fun and the joy of flying on every lesson. Our new trainer carries the highest rental cost, however, students and instructors both believe it delivers the greatest training value. Jay Figureroa

My wife and I are really enjoying the Alarus flying around Arizona on weekends. The plane is a joy to fly and very comfortable. This coming weekend we have our annual chili cookoff and fly in at the airpark and I will be showing of N38ZA. Keep up the good work and I hope that I can make more people out west aware of what you have to offer. Gene Hitney

Dear M. Heintz. As you are aware, N36ZA was recently in for a 50-hour service check. This was the :first check under the extended service agreement. I want to especially thank Shawn Fallin and Lisa Lewis for their efforts 'in arranging and having my electronics work completed. This relieved me of the burden of taking the plane to and from Macon and waiting for the work to be completed. I did not have the opportunity to meet and thank the mechanics but I was very impressed with the thoroughness and attention to detail that my aircraft was given during the 50-hour check. Keep up the good work. Sincerely yours, Scott Redtick, M.D., FACOG - Paul Smurda, M.D. Eva M. Fronk, MSN, CNM

As a new pilot, I love the Alarus aircraft. Excellent comfort and great visibility and responsive controls. As an FAA A&P, I find the aircraft easy to maintain. Simple construction and large inspection panels" Todd Ott FAA A&P with new PPL.

"I just wanted to take a brief moment to tell you what a great machine the Alarus is. I earned my private with it, and did the majority of my instrument training in it, including my check ride. The Alarus is a stout, well designed and built aircraft. I fly serial number 20-0049, and in les than one year, my school (Sterling Aviation 904-642-9683 - president - Hayden Malone) has already logged almost 800 hours with it. Great job." Bryan Spink of Jacksonville FL.

"I am a Canadian retiree from high school teaching. I bought a mobile home in St.Petersburg in 1989 and I have been returning there from my summer home in Canada every Fall. I have my pilot license from Canada since 1967 but at that time my three sons were quite young so I had to stop flying, family was more important than a hobby, and insurance was too costly. So, during last Christmas holiday I've got to try Flight Sim 2000 on my son's computer at his home in Canada, and I fell in love again with flying. so that's how I went to Al. Whitted Flying Club and from one thing to another I got a temporary permit to fly in USA while I was being flight reviewed by a CFI, and I had the chance to practice flying at PIE, on Alarus N641AM and N642AM. And I enjoyed every minute of it to the highest degree." Jean-Jacques Lefebvre

What the press is saying about the Alarus - Model number "CH2000"

AUTOPILOT

...why not an Alarus? AMD is positioned it as a flight school workhorse, and I think it fills that niche very nicely. As a flight instructor, I definitely can tell you that I would enjoy teaching in one....

"When John suggested that I stall it, I was ready for anything. The pull on the yoke was silky, no big heaves, no grunting or sweating required, just a gentle command. When the Alarus quit flying it was as if she let out a gentle sigh. I released the backpressure and she was flying again. I was really beginning to like this airplane"

AOPA

"What matters most in a training airplane is function, reliability, durability, and, course, affordability. And that's what you'll get with the Alarus CH2000" – "The two seat CH2000 is also attracting student owners who want to purchase an airplane in which to earn that first certificate".

FLYING

"During the stalls, slow flight, steep turns and a simulated engine-out glide, the airplane did what it was supposed to without demanding any unusual efforts for me" - "AMD is designing a three-year extended warranty program that will provide wingtip-to-wingtip coverage for all normal wear and tear and all maintenance recommended in the airplane's standard maintenance manual, including brakes, oil changes and annual inspections".

FLYER

"There's a lot in the airplane that has an appeal beyond the trainer market" - "It's easy to fly. It's also economical to operate and maintain, and its relatively inexpensive" – "

IN FLIGHT USA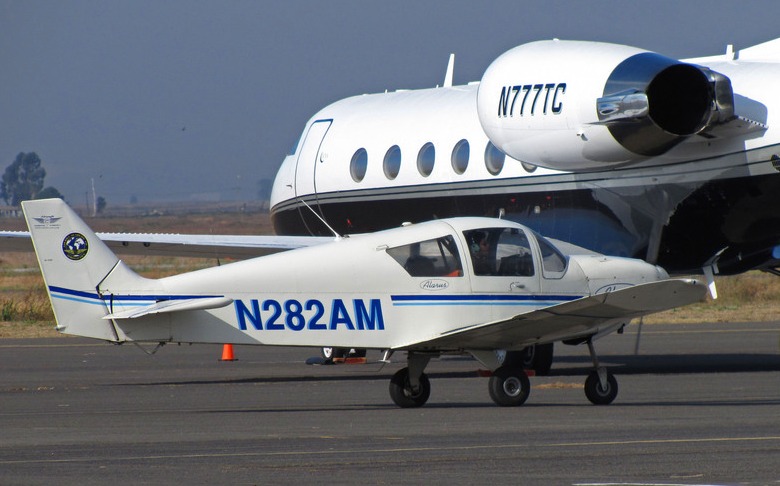 "The excellent visibility afforded by the ample glass made spotting traffic in the busy pattern a breeze. Slowing to the 60-65 knot approach speed, the CH 2000 once again exhibited excellent speed stability" – "I even managed a couple of greasers"
PRIVATE PILOT
"In raw performance numbers, the CH 2000 exceeds the old 150/152 in every category" – "Steep turns are easy and very controllable with the all-flying tail surfaces of the CH 2000
PRIVATE PILOT
"If affordable training is to be available, a simple, inexpensive training aircraft is mandatory. While it costs twice as much as a well-worn used trainer from the 1970's, the CH 2000 has the advantage of a low upkeep by starting out with a fresh airframe. In addition, it has that new-plane cashe -- a rare commodity on the flight line. Expect to see a lot of these little classrooms on flight school ramps."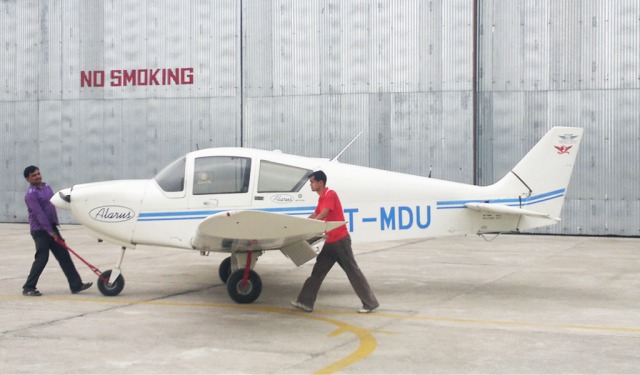 More Press articles

"Simple and rugged, the Alarus CH2000 is an ideal trainer, especially now that it has been certified for spins and IFR." SPORT PILOT magazine, CH 2000 Goes IFR

"...splendid and forgiving handling coupled with a price that completely eclipses any other new aircraft in its class. "...maximum value for the money." AVIATION QUARTERLY magazine, Economy Trainer, by Kenneth Armstrong, pages 22 - 26.

"Two thumbs up for the gull wing doors. Aviation needs more of this kind of sporty image - The paint job is a `10´. It makes the 1997 CH2000 look fresh and bigger - This is what people expect who can afford the time and money to fly, not an old Cessna - It's the ideal flying school engine: change the oil and filter regularly and go - To eliminate landing gear problems found on other trainers, Zenair attaches the CH 2000 main wheels to a huge single piece of stock aluminum. The nosewheel is on a strut that is so beefy it does not require a shimmy dampener..." Canadian Flight

"Expect to see a lot of these little classrooms on flight school ramps." PRIVATE PILOT magazine, pages 66-69. Flight Report by LeRoy Cook.

"I was very impressed with the CH2000. It is easy to fly and will teach you stick and ruddering if you want to fly it well. It's new, roomy, and comfortable, and is cheaper than a Katana.
"The bottom line is that if you learn to fly in a Zenith, you will be well grounded in the fundamentals you'll use throughout your flying career, as well as be prepared for an easy transition to your next plane." INFLIGHT USA, cover story by Ed Wischmeyer, pages 55 - 57.

"In all areas of performance, design, construction, size, load carrying capacity, spacious cabin, high visibility, conventional controls and uncluttered but full and modern instrument panel, it all leads to an ideal teaching/learning environment. This along with the operating and maintenance costs, a 2400 TBO engine time and a competitive purchase price of under $139,000.00 USD on a fully IFR equipped trainer plus the 3000hr/3 year warranty, we just may have another winner." Recreational Flyer.

"Chris Heintz designed the CH 2000 to be a sturdy bird able to withstand thousands of hours in the hands of novices. "And it turned out to be my job to be the first to offer physical proof that the design performs as advertised. "In only 90 minutes the CH 2000 convinced me Chris Heintz did one hell of a job." General Aviation News & Flyer, Zenith's CH 2000: First certified production model has places to go, pilots to train, cover story, by Dave Higdon, Pages 30 - 36.

"Put it all together, and it's hard not to conclude that the CH 2000 is the best all-around trainer buy available. That fact that it's currently the only real trainer available doesn't diminish its value as a talented teaching machine." Plane & Pilot Magazine, Light Years Ahead: THE CH 2000, by Bill Cox, Pages 34 - 38.

"With a basic trainer like the CH 2000, learning to fly would have been more fun. The all-metal two-seater offers a ready-to-train avionics panel and a view outside for ground reference maneuvers and airwork that's hard to beat." FLYING Magazine, Reaching for the , by Tom Benenson, Pages 94 - 96.

"The CH 2000 is a good bet to succeed where more ambitious projects have failed. We predict the airplanes will soon be at work all across North America."

PRIVATE PILOT, Traditional Trainer: Lycoming power and aluminum, by LeRoy Cook, Pages 42 - 44.

"...the plane is going to be hard to beat, thanks to a combination of desirable qualities, including its low acquisition and maintenance costs, impressive interior dimensions, outstanding climb and landing performance, and overall smooth flying characteristics." AIR PROGRESS, CH 2000, by Robert Goyer, Pages 46 - 50.

"From the drawing board to the airways, Chris Heintz' new primary training candidate has all the right moves. "...if I were looking to buy a new airplane in which to teach flying, the combination of the CH 2000's low acquisition and operational costs, its conventional, rugged construction, and its sweet, easy going personality would give me a real yen for Zen." SPORT PILOT, ZEN & FLYING, Zenith's CH 2000 trainer sets a new standard, by Robert Goyer, Pages 34 - 59.

"Lots of normal aluminum, a tried-and-true Lycoming O-235, and elegantly stable handling make this a sweet, simple trainer that can be bought and operated for a price that is half that of most of the competition." US AVIATOR, BEST CERTIFICATED AIRCRAFT (NEW).

"...the CH 2000 just happens to be a good airplane, with performance that meets or exceeds its maker's claims and a kind of no-frills honesty that will endear it to first-flight students and seen-it-all instructors alike." AOPA PILOT Magazine, ZEN And The Art of New Trainers, cover story, by Marc Cook, Pages 44 - 52.

"The CH 2000 offers a great deal to FBOs or schools. The all-metal construction and bulletproof Lycoming are comfortable to mechanics, and the performance is nearly a third better than any of the trainers built back when they built trainers." General Aviation News & Flyer, The latest from Chris Heintz, cover story, Issue, by Jim Cavenaugh, Pages 16 - 25.